Our first Christmas in our new home
Christmas Eve
This February I moved in with my boyfriend Deon to a big village named Houten. It was already fully-furnished when we moved in, so there was very little that actually represented us. This Christmas I was super excited to decorate the house in our own personal style. But of course, like usual, we were last-minute with everything; so we got our Christmas tree on the day before Christmas eve, BUT it was for a very attractive price at the Christmas store in Hoog Catharijne. We had a 150 cm tree with blue decoration in mind, but when we saw all the different color schemes and tree sizes in the store, we were quickly persuaded into buying a 210 cm tree (because the 240 cm was already sold out) and decorations in the colors black, white and gold.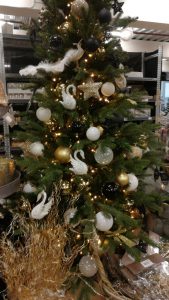 Unfortunately, we both had to work this day, so we didn't have the time to start decorating and after work we were just too tired. The next day we woke up around noon and were so lazy, because Christmas break finally started! Around 5 pm we were going out for dinner at TGI Friday with a very good friend of mine, so we only had enough time to clean up the place a bit. We went to Hoog Catharijne around 4 pm (because of my Daluur Vrij abonnement) and went for some last Christmas shopping until it was time to meet at TGIF.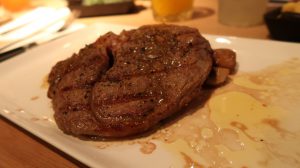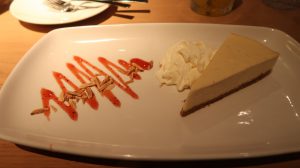 Around 11 pm we arrived home again and watched an episode of 'Mijn kerst is de beste!' on Net5. If you're not from the Netherlands, but you do understand Dutch, you have to watch this. The commentary is hilarious! So, finally around midnight it was time for Deon to start cooking for his family Christmas dinner and for me to do the decorations.
Christmas Day
For Deon's family we were going to make beetroot soup (bietensoep) with celery cream as an entree, a whole turkey as the main dish guided by Gordon Ramsay's recipe, and creme brûlée as dessert. I use "we", but most of it was done by Deon. The kitchen is just not my place to be; let's say it like that. After all cooking preparations, he helped with setting up the Christmas tree and attaching hooks to all the balls, while I decorated the tree. At exactly 4 pm we were done with everything and we're super proud with the results!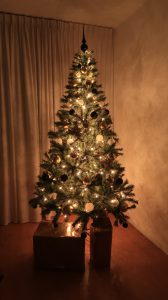 Fortunately for us, his family dinner was taking place at his sister's place and she lives right around the corner. Our kitchen is super small, so we were welcome to finish our dishes in their kitchen. At 6 pm everyone was ready to have a wonderful Christmas dinner with each other.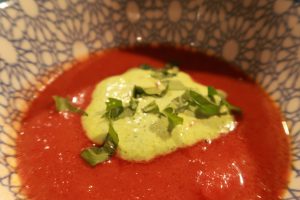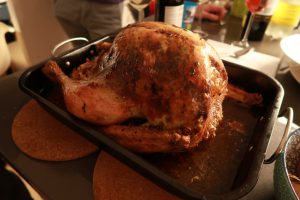 Boxing Day
Second Christmas day was for my family in Amsterdam. A few days before I found out that one of my Surinamese friends didn't have any family in the Netherlands to celebrate Christmas with, so he was going to "just chill at home alone." No. I invited him to celebrate it with my family in Amsterdam and he was very happy to. He came around 10 am, which I explicitly asked him, so we could start on time with the cooking. I literally woke up when he was outside already. Anyway, around 11 am we started cooking and with lots of laughter and fun we finally finished around 2 pm and arrived around 4 pm in Amsterdam.
Deon made the same beetroot soup and paprika stuffed with creme fraîche and smoked salmon; and my Surinamese friend and I made mushroom risotto with port salut. My friend and I both can't really cook, so eventually Deon had to fix our mess, but at least we tried. My middle sister brought dessert, my older sister the meat dishes, and my brother-in-law a pre-dinner drink. My friend had a good time and it was nice to spend time with family again.
Because that's what Christmas is all about; being together with love and peace in each other's heart.