I feel very honored to write this Christmas Column for the fourth time since I joined Hucbald. Whenever Christmas is nearing, I scroll all the way back to my previous Christmas-themed columns just to reminisce about the most wonderful time of the year.
I believe that Christmastime has this magical thing that can't be explained. For some people that might be because of religious reasons, but for me it's just being with loved ones while you get to enjoy your free time and, of course, lots of delicious food. Food is a very important aspect of Christmastime for me and my family.
The main question, when planning our family Christmas dinner, is: "What are we going to eat?" We even have a special group chat for Christmas that we reuse every year to discuss our Christmas dinner, which gets easily chaotic and very opinionated.
So, what did we do this year to plan our menu more effectively? We planned a family dinner to plan our family Christmas dinner. Yes. Because, why not.
Of course, that meant that we also had to decide what we were going to eat during the regular family dinner. Basically, we created the same problem again, but because it wasn't for Christmas, there was less pressure on deciding what dishes we wanted (for the regular family dinner). After a poll, the regular menu was decided, protested, and then finally accepted – all after "just" three business days.
It has been decided.
After our discussion about food, while also eating our bellies full, we finally decided on the theme: tapas! Usually, every household brings two or three dishes, which we divide into appetizers, main dishes and desserts. This time we thought it would be fun to try something different. Every individual, including the kids, makes three small dishes. That means I also have to prepare – not just something – but three dishes!
Like I said earlier in one of my previous Christmas columns, the kitchen is just not my place to be. It's my boyfriend Deon who always cooks or prepares food in any type of activity or event. I was about to have an anxiety attack, but then my sister suggested mini-pizzas with three different toppings. I love pizza and it's one the few dishes that I actually love to prepare, so my attack didn't happen and I was more than happy to accept this blessing.
| | |
| --- | --- |
| Deon | Three different smoked salmon dishes. |
| Cousin 1 | Two types of sushi and big prawns with, what he believes, the most amazing sauce. |
| Cousin 2+3 | Because they're younger, they get to join forces and prepare another two types of sushi and mini apple pies. |
| Sister 1 | Paprika soup (her specialty), snack-sized soy sauce chicken (also her specialty), and crostini's with different toppings. |
| Brother-in-law | Mini meatballs (from my mom's recipe) with three different sauces. |
| Sister 2 | Baguette with beef triangles, edamame, and deviled eggs. |
A clear overview of our decided Christmas menu. (12/12/2021)
---
Can I now sit back and relax?
Probably not, because dishes will be added, removed or switched for sure. But for now I look forward to the new tapas theme we're trying out for our family Christmas dinner this year.
But we're not finished yet! Now that we're done with my family, we can start all over and do exactly the same for Deon's family Christmas dinner.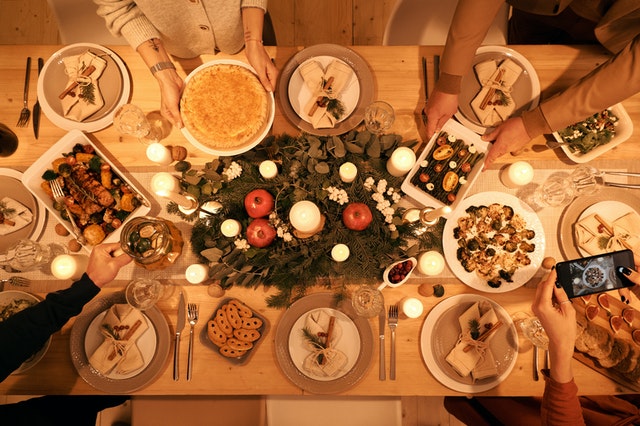 Merry Christmas and a Happy New Year!